Whoa. It's been a couple of weeks since I posted. Between the beginning of school and getting ready for
RAW
, time just got away from me.
Sorry!
So. I bet you're curious about the title of this post. Since The Witcher is a video game, I'll keep that part for the end of the post. The rest, well...
We're talking about dreams and triple dog dares.
Killer Bunnies
I had a dream a couple of nights before I left for
RAW
. See, I'd been reading
Celia Kyle's bunny shifter
, and saw a Monty Python reference to a killer rabbit that same day. So guess what I dreamed about that night?
Yup. A four foot eleven female bunny shifter who totally kicks ass and scares the crap out of the rulers of Maggie's Grove. And Dusty, who is a total enabler, loved the idea so much he helped me refine it.
So I'll be breaking my own rule and writing a bunny shifter after all, only it won't be in the Halle Shifter world. Instead, we get to watch the residents of Maggie's Grove scramble to deal with the threat of the killer bunny.
Don't you love my brain?
Pig Shifters in Space
Did I mention the triple dog dare? I was at
RAW
, speaking at the Falling Leaves round table, when I someone asked about the sci fi series I've put on hold. I mentioned how it was driving Dusty nuts that I'm doing shifters in space. Someone mentioned the Muppets, Miss Piggy came up, and before you know it I'm being triple dog dared to make pig shifters.
In space.
Oi.
So now I've got to figure out how to make this work without losing my mind. I have a couple of ideas, but it will be a while before I get to that series.
P.S.: All I keep thinking is "pigs have thirty minute orgasms".
The Witcher, or Geralt the Man Whore
I finished both Witcher 1 and Witcher 2, and I must say, Geralt of Rivia is a total man whore in Witcher 1.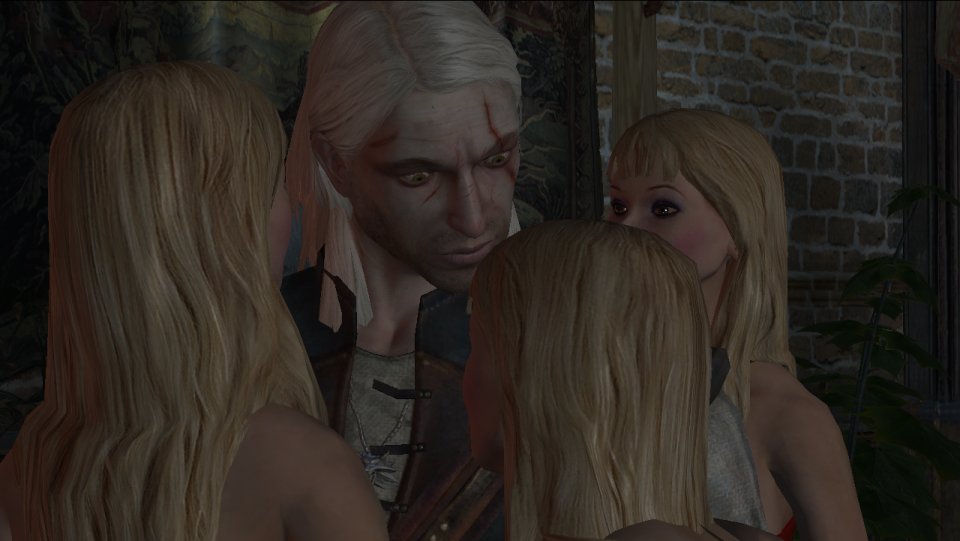 You see, he seems to have this little problem with his pants. The zipper keeps falling down, and his peen winds up landing in random women.
No. I'm not kidding. I gave a starving elf some food, and the next thing I know Geralt's pants are down around his ankles and they're having angry hunger sex. I didn't even have the opportunity to say no!
I managed to stay loyal to Triss for the first half... of the first act.
Oops.
It was much easier to avoid random trou dropping in Witcher 2, so I managed to stay loyal to Triss. Hell, I even told her I loved her, and plan on remaining loyal in Witcher 3. Both story lines were really, really good, despite the random peen insertions, so if you like RPG's I do recommend both games. Just be aware that Geralt loves to love you, baby, whether you want to remain loyal to Triss or not.