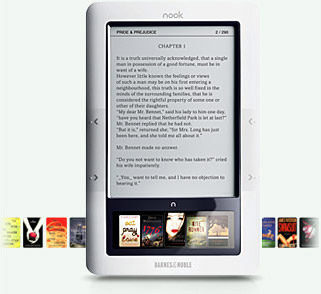 Two days ago I bought a Nook. It arrived the day after I ordered it, surprising the hell out of me (and Dusty, who didn't know I'd ordered one).
I have already changed its name from "My Nook" to "My Precious". Dusty just rolled his eyes, but he can't fool me. I saw his fingers twitching. The minute I pop some Sci Fi books on there that sucker will go missing, I just know it.
Okay, truth is, I want him to take a look at it. I want him to yearn for his own to hug and love and call George. I spent all day with mine yesterday while trying to stave off a migraine and, once I figured out how to change my .pdf's into .epub's (
Calibre
works wonders and is free!) and "side-load" the books onto it, I had a blast. The battery life was excellent, the books easy to read. Even the flicker when the pages turned couldn't dim my enjoyment, especially when I figured out I could play (softly, the speakers aren't that great) music on the damn thing. I bought the
Lyra Light
book light from B&N and because it's bendable I was able to aim the light off to the side, saving my aching head while still being able to read.
It's just the thing to soothe the savage bibliophile. Admittedly there is no web browser, but my HTC Hero can handle that just fine, and I don't mark up my books, so that function is unnecessary if it even exists on the Nook. The Nook won out for me over other ebook readers on on a) I can add a microSD card, upping the amount of book storage (and I have a LOT of ebooks) and b) That scrolling color bar at the bottom of the page. That thing rocks. I can open my music player while my book sits pristine and untouched; I can flip through menus, pick what page I want to read from, and all the while the e-ink section remains still and calm.
Can you tell I likey?
And the cover I picked up for it?