If I've seemed a little out of it the last couple of days, there's a really good reason.
M is, we discovered yesterday, is allergic to penicillin and has developed a nasty, spotty rash because of it called
erythema multiforme minor
.
Picture this all over your body. Itchy yet?
The rash is all over. The palms of his hands. The soles of his feet. His face and neck. EVERYWHERE. We tell him he's "The Great Spotted M", like he's an endangered species, trying to keep his spirits up since he's essentially housebound for a while. No running around and no hot showers, not until the symptoms ease.
M is a
very
active child, and he's been drumming on everything from his desk to the cat since yesterday. And he's told me he's "allergic to cold showers, Mom".
Yup. That's my boy. Bored out of his mind, yet still a smart-ass.
The thing is, I'm positive he's been on antibiotics before without reaction. Unfortunately, this sort of thing can develop without warning, and he'll be off any penicillin-related products for the rest of his life. He'll wear a med-alert bracelet or necklace, just in case. (He's in 2nd grade. LOTS of field trips in his future.)
So, yeah. Dusty and I are a little distracted. We know it could have been a lot worse (my sister had
anaphylactic shock
from aspirin when she was a small child), which is part of what's freaking us out, I think.
M, on the other hand, is just thrilled he has dibs on the Wii.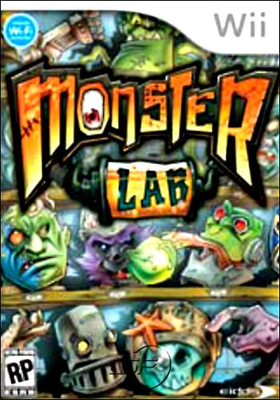 A housebound child, a vivid imagination, and Monster Lab. What could possibly go wrong?